I have put together some essential art supplies (drawing materials) for fashion designers that I would highly recommend when starting out or stocking up.
Many of which I personally use and still get enjoyment out of today.
Each are are quality products which I have curated in order to save you precious time researching and save you money buying the wrong items in the first instance.
If you can draw the outline of shapes, YOU CAN draw! It just takes time for the artist within to make an appearance.
Whether you are budding fashion design student, looking to be hired in the industry or even start your own clothing line, you need a way to communicate your ideas that look professional and are well organised.
The items below I believe will make the whole shopping experience less stressful and present everything you'll need to be a success.
Recommended Artist and Designer Materials
Above are the basis essentials.
They will help build your fashion designer supplies and allow you to begin communicating your ideas and designs. After all, every single fashion designer needs some form of media to share creative visions and ideas for clothing.
List of Drawing Supplies
Winsor & Newton Promarker, Set of 24, Arts and Illustration.
Professional Drawing Sketching Pencil Set – 12 Pieces Drawing Pencils 10B, 8B, 6B, 5B, 4B, 3B, 2B, B, HB, 2H, 4H, 6H Graphite Pencils for Beginners & Pro Artists.
Derwent Sketch and Store Sketch Book, A4, Portrait, 8.27 x 11.69 Inches Page Size, Wirebound, 56 Pages.
Precision Black Micro-Pen Fineliner Ink Pens, Waterproof Archival Ink, Drawing Pens, Artist Illustration Pens, Multiliner, for Art Watercolor, Sketching, Anime, Manga, Design, 9/Set(Black).
STABILO LEGACY LARGE WHITE ERASER PLASTIC RUBBER ERASERS [Pack of 5 Erasers].
Zink Polaroid Snap Instant Digital Camera (White) with ZINK Zero Ink Printing Technology. Sakura XLP25 25-Piece Cray-Pas Expressionist Assorted Color Oil Pastel Set.
Daler Rowney – Layout Paper Pad – 45gsm – 80 Pages – A4 Landscap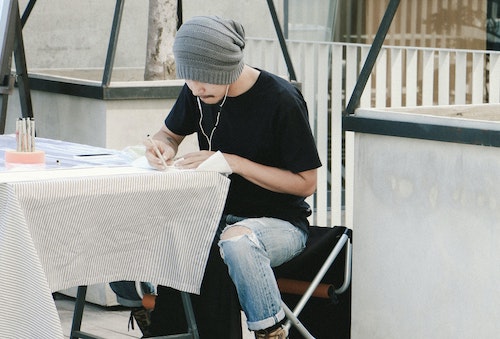 Please click on any the drawing materials you require for more information. It will take you to my 'Amazon Page' where you can make your purchase. Let me know in the comments if there are any other supplies that you need or order to be productive.
Colleen