Now I know this sounds so simple!
You're probably even thinking why even write about something so trivial?
However! How many of us out there in reality have tried and tried and ultimately failed to thread a needle? I have!
There is a certain art when threading a hand sewing needle which I hope when mastered, will encourage you to think about hand sewing in a more positive way.
Hand sewing itself should be a go to just as much as your sewing machine is. It's the secret to luxury couture sewing. Very few of my designer pieces are sewn by machine alone.
If you're looking to include more hand sewing techniques in your projects, check out my playlist.You'll find lots of different types of stitching methods which will aid you in producing professional looking quality garments.
When it comes to needles, there are so many different types, sizes, lengths and eye shapes.
The thread itself can be any length, but try not to make it too long or it will tangle and you don't want that. It can be frustrating trying to detangle the thread, which can look like a birds nest.
Anyway let me share my exciting tips for finding the eye of the needle with your first attempt, with this great little technique. Your success rate should rise to around 95%.
In my video tutorial, I'll be sharing this technique with you and only you! And remember if you want an amazing luxury designer wardrobe, you need to start using that hand sewing needle more and more.
This one little trick should stop all of your future needle threading frustrations. So let's get into the video!
Threading A Hand Sewing Needle The Quick And Easy Way
A Set of Hand Sewing Needles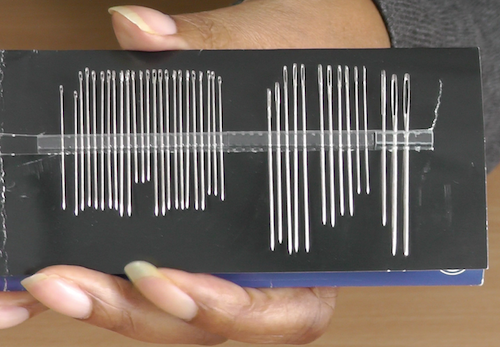 1 – Choose a needle for your project. Now let's get ready to thread the needle.
2 – Cut the end of your thread on the diagonal.
3 – Aim your thread towards the center of the eye of the needle.
4 – If at first you don't succeed, perseverance is the key 🙂
5 – If you are still struggling there is another little tool that can help. If you decide to use it let me know in the comments.
Don't forget that if you're looking for quality needles and supplies, checkout my Amazon Page.
I hope you enjoyed this simple yet informative technique tutorial.
I want you to be encouraged to start thinking about using a hand sewing needle and learn new techniques during more of your sewing projects.
At least now you be able to thread a needle first time, every time!
Give it a try and let me know in the comments box below your success stories. I look forward to reading what you have to share!
Happy fashion Sewing!
Colleen