Breathing new life into old clothes is a fantastic way of expanding your wardrobe. Refashioning clothes has never been more popular and adds flair and could save you money.
The transformation that happens when refashioning old clothes can improve any garment, as you can see with this elastic waistband semi flared skirt. It's gone from drab to pretty amazing just by adding unlined patch pockets.
The shape of the pockets are rectangular with a centre plain seam in the middle of the pocket to add more drama. It was the only choice I had which I reveal in the video tutorial below.
There is no top stitching on this particular pocket because I wanted a clean look to the skirt, in keeping with the original aesthetics of the design. They are sewn on by hand which I talk about in the video tutorial, but if you prefer to machine stitch I do have a how to tutorial for sewing patch pockets using a sewing machine.
The feature of my pocket which is breaking from the traditional, is rather than putting your hands in from the top, the opening is now to the side. I find it feels a lot more relaxed which is how I like to design.
Let's sew an unlined patch pocket onto a skirt. It's sew easy to do!
How To Sew Unlined Patch Pockets
A quick run down of what to except in the tutorial!
1 – Choose your skirt. It can be any style.
2 – Measure your fabric and neaten around the edges, then apply facing to one side. This will be the pocket opening.
3 – Miter the corners.
4 – Press the pocket edges onto the wrong side of the fabric.
5 – Top stitch or edge stitch the pocket into place on your skirt.
6 – Show the world your creative genius 🙂
The Supplies You Will Need For Sewing Unlined Patch Pockets
Tape Measure
Basting Thread
Regular Thread
Straight Pins
A Scrap Of Fabric (large enough to cut 2x patch pockets)
Hand Sewing Needle
Interfacing
Now that you have the knowledge and supplies I just want to say you can add unlined patch pockets to any style of skirt, even fitted ones.
Add drama by using contrasting fabrics! The possibilities are endless. This refashioned skirt is going to be part of my autumn and winter wardrobe for many years to come.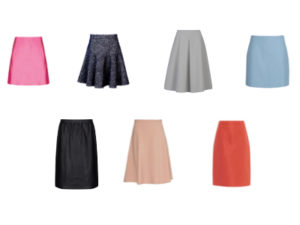 Thank you for taking the time to read and watch my video tutorial. If you enjoy the content please take the time to comment below and let's keep the conversation going.
Happy Fashion Sewing!
Colleen